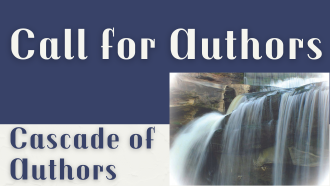 The Cascade of Authors is a local author fair held annually at EPL - West River.
The 13th Annual Cascade of Authors is on Saturday, November 4, 2023, from 12:30 - 3:30 p.m.
This year we are changing it up, instead of of eight authors, we are expanding the number and having them spread out throughout the Library to interact with patrons, sell and autograph their books.
Deadline | Deadline for applications is September 15, 2023.
Application Process | Applications will be accepted beginning July 1, 2023. See options for applying below. Starting mid-September, the Library will begin contacting authors for a brief interview. Interviews will be completed by early-October, and selected authors will be contacted.
Note: not all authors will be contacted for an interview; not all authors will be selected.
Rules and Expectations
You must be a resident of Northeast Ohio.
 
You must be a published author as of August 1, 2023. 
 
The fair is limited to authors who have at least one published print book. You will be expected to bring a copy with you to the interview.
 
Due to high response, priority will be given to authors who have not participated in a previous Cascade of Authors fair. If you have participated in the past but have since published a new book, you will also receive priority.
 
You must complete out the application linked at the bottom of this page. One application per person.
 
The application asks you to list up to three published books. If you have more than three, please choose any three of your published books.
 
The author is the person expected to present their book and host their table. Assistants are welcome.
 
If you have a disability, please note it in the application, so the Library can accommodate you.
 
If you are under 18, the name of a legal guardian must be listed in the application. This guardian must also accompany you to the program and will be the person to whom all Library correspondence will be sent.
 
Selected authors must sign an agreement with the Library. A copy of the agreement is available here.
 
Selected authors will have their photo taken and be asked for a brief 100-word biography for the Library to use in promoting the event.
 
The author is responsible for handling their own monetary transactions; it would be beneficial to have another person host your table with you.
 
The Elyria Public Library is not responsible for damaged or stolen items.
 
The Library will provide each author a table, two chairs, tablecloth and signage for the table. Due to space limitations and public safety, all materials provided by the author must fit on the table.
 
The selected authors agree that the Library may use their names, title(s) of their book(s), cover art, images, biography, and website address in any promotional materials for the event.
Apply Today! | Click here to apply via online form. - OR - Click here to apply via downloadable form and email submission.
Questions? | If you have any questions, please contact Kristine Garrett at kristine.garrett@elyrialibrary.org or call 440-324-9825.